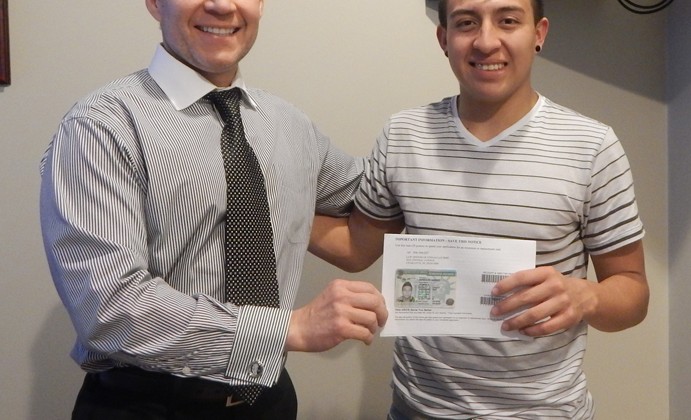 Three years ago, as a child, Jesmen Esbel came to the United States from Central America. His journey ended in a detention center with a deportation order in his hands.
This week when he first met her 18 years, the hope of a better life reborn, after receiving from the hands of lawyer Stefan Latorre permanent residence and the possibility to apply for citizenship in five years.
"We achieved the residence through a special protection out there for children who have been abandoned or abused by their parents. We are fatherless 16 years and Latorre lawyer said could apply to this benefit, "said Uriah Jesmen older brother.
This benefit relates to the possibility for minors who have been abandoned, abused or victims of neglect by both or one parent, to get a legal status in the United States.
Jesmen remember that whole process lasted only a year, he always felt fear when I was dating at the court, but which always had the support of lawyer Latorre. "You feel safe with him. I always did very well, "he said.
Jesmen is the youngest of eight siblings and after the death of his father in Guatemala, by older siblings were younger. So Uriah decided to bring it to the United States in search of a better life.
Today Jesmen attends the High School and his goal is to continue studying, to visit his mother he has not seen since he got here and make as citizens can apply to it.
More information can hear the show the truth of the Law every day at 7:30 am or can download the mobile application on your cell phone.
Attorney Stefan Latorre has offices in Charlotte, Monroe, Hickory and Greensboro in North Carolina; Columbia and Greenville in South Carolina; and Jacksonville in Florida. For a consultation, call 1.800.966.6769.