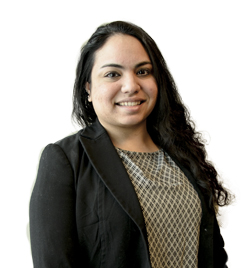 Rebecca Forte is an Associate Attorney with Latorre Law Firm, practicing in the area of Immigration Law. Ms. Forte's practice consists of assisting clients in the preparation and filing of U-Visa petitions for victims of qualifying crimes as well as Employment Authorizations.
Ms. Forte was born in South Florida. As the daughter of an immigrant from Karachi, Pakistan, Ms. Forte has always  appreciated the plight of immigrants and had a passion for representing immigrants' rights.
Ms. Forte graduated Magna Cum Laude from North Carolina State University in 2013, receiving a Bachelor of Arts in Political Science, and a Bachelor of arts in Criminology with a minor in Psychology. Ms. Forte earned her Juris Doctor from Elon University School of Law in 2016 with a concentration in General Practice and Litigation.
During law school, Ms. Forte was awarded the Legal Method and Communication book award. She was a student attorney at the Humanitarian Immigration Law Clinic and Elder Law Clinic.  At the Immigration Clinic, Ms. Forte directly advocated for a highly diverse client base, particularly Refugees and Asylees. At the Elder Law Clinic, she did Estate Planning for low income seniors in Guilford County. Both were humbling experiences that intensified her passion for helping her community.  She also participated in Wills for Heroes events in surrounding North Carolina cities.
Ms. Forte has been a member of the North Carolina Bar Association since 2016.