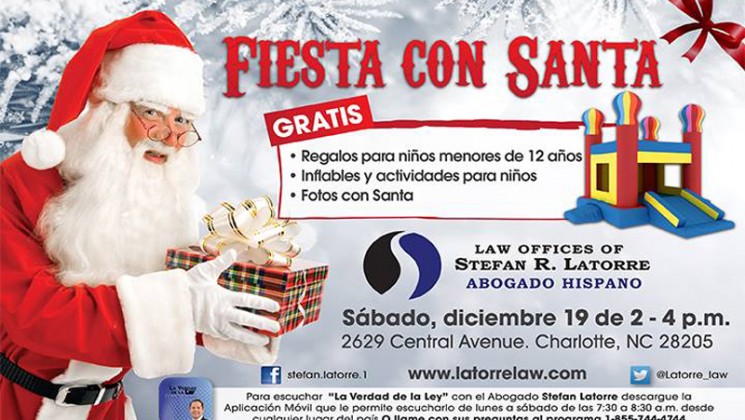 This is a call for the under twelve and their parents Latino children participate in the "Celebration with Santa" sponsored by lawyer Stefan Latorre, who this year wants to celebrate Christmas with all those who have come to the United States search of a better future, and that every day we contacted through his radio program The Truth of the Act for legal advice.
The festival, to be held at the offices of Attorney Latorre located in 2629 Central Avenue on Saturday December 19, expected to draw hundreds of children, who enjoy recreation, inflatable activities, gifts and photos with Santa Claus.
"The Party with Santa" will be between 2:00 and 4:00 pm and participation will be free, just have to get to the place of celebration.
For the Lawyer Stefan Latorre, Christmas is a time to share, to give thanks and to return the joys and good wishes received throughout the year, therefore, will offer this festival in which Latino families spend an afternoon full of happiness and fun.
Similarly, the Advocate Latorre said that this activity is part of their mission in the guidance and support of the migrant community, not only in North Carolina, but in all parts of the United States in which it is heard through the radio and the internet.
In this work also we have the big party back to school held in August in which hundreds of school bags were delivered. Also, several pro bono cases that Advocate Latorre did this year, all with excellent results.