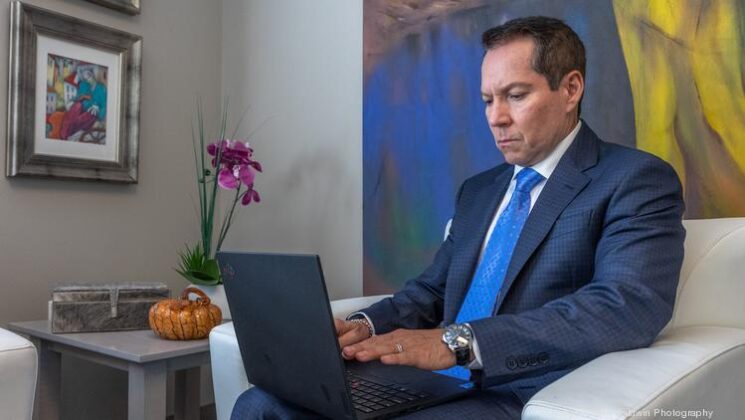 Twenty-five years ago, attorney Stefan Latorre traded his position as an international tax lawyer to help Spanish-speaking immigrants – many of them undocumented workers – who were helping to build Charlotte during a period of growth. Latorre crossed the language barrier and brought aggressive representation to a group who were overlooked. Along the way, Latorre helped change case law in the state, making it possible for undocumented workers to be paid worker's compensation for injuries on the job.
Even while he was changing the legal landscape for workers' compensation, Latorre also developed uptown's restaurant and nightclub scene, introducing Latin food that went beyond a traditional Mexican restaurant. The now-closed Latorre's and later, Aquavina, provided upscale dining on par with what was available in Miami at the time.
What brought you to Charlotte?
I was born in Colombia and came to the U.S. We lived in Miami when I was very young. I went to law school at Florida State and did a master's in tax at the University of Florida. I came to Charlotte to do international tax for a law firm here. I did that for a while, and it was very rewarding.
What led you to start your own law firm?
Honestly, I saw an opportunity in 1996. Charlotte was growing very fast, and there was a tremendous amount of construction happening. Many Hispanic immigrants were working on those buildings and getting injured. Worker's comp was routinely denying those cases because they were undocumented workers. Many lawyers didn't want to take those litigation cases, and most couldn't because of the language barrier. Representation wasn't available, and I thought I could make a difference. I left tax law and started my own practice. Most of my friends thought I was a little crazy. But I figured, if it didn't go well, I could go back to Miami and do international tax.
What makes you most proud of your work?
Because most of the cases were being denied by the insurance carrier, I was one of the few lawyers that would litigate. I soon had several hundred cases in litigation. I am very proud that one of my cases made it possible for undocumented injured workers to receive workers' compensation benefits in North Carolina. The case my client v. a Masonry company. I argued the case all the way to the North Carolina Court of Appeals with another colleague. The case took five years. The North Carolina Supreme Court denied review of the Court of Appeals' decision, forcing the insurance company to pay my client the value of his claim. After we won that case, I had hundreds of cases that I was able to settle because insurance no longer had a reason to deny the cases. That changed things a lot.
Tell me about the growth of your law firm.

How has immigration work changed?
There is a lot of immigration work. We help people who maybe married a U.S. citizen or people who are fighting their deportation because they have been detained. We try to find a legal argument to help them stay here and earn their residency. It's quite a variety of work.
What's your biggest challenge?
We provide legal services, so we want to have the best legal professionals. Finding and training them is always a challenge. We are looking for people who are passionate about helping others and willing to work hard.
Tell me about your work in commercial real estate.
I own and manage eight commercial properties. I'm in the process of developing a 40,000 square foot building on Central Avenue. I've gotten the rezoning approved. It will have first floor retail and office above.
How has Bank of America helped you grow your business?
Bank of America has been my bank since I moved to Charlotte. They have financed many of my properties including my law firm office building on Central Avenue. The bank's significant investments in our community have helped Charlotte grow, which has also helped me grow my business.
For years you had some of Charlotte's beloved restaurants and nightclubs. Tell me about that business.
I really didn't mean to get into that business. I got into the real estate business and needed a tenant, so I created one. I had started my law practice, and I purchased a building downtown that I remodeled. I opened Latorre's, and it was the first Latin restaurant in Charlotte. It had Latin food but not of any particular country and was more upscale in the presentation. We brought in Latin dancing. Then I had Aquavina for over 10 years. We decided not to re-up the lease there. I used to work all day as a lawyer and then go to the restaurants and our nightclub at night. I would just work a lot of hours. That's a young man's game. Now I focus on my law practice. I'm completely out of the restaurant business, however it was fun.
How has the restaurant scene changed since then?
We've got great restaurants now. When I opened my first restaurant, Charlotte was a meat and potatoes town. That was good and bad. I had to work hard to tell people what our restaurant was. There wasn't a lot of variety. Now we've got great restaurants and restauranteurs. I did it because I was naïve and because there wasn't a place like mine at the time. Sometimes being first gives you an advantage. Those restaurants allowed me to pay my mortgage on downtown buildings when Charlotte's downtown real estate had not taken off yet. I took a chance, and I was lucky.
https://www.bizjournals.com/charlotte/news/2022/09/30/latinos-mean-business-latorre-law-firm.html