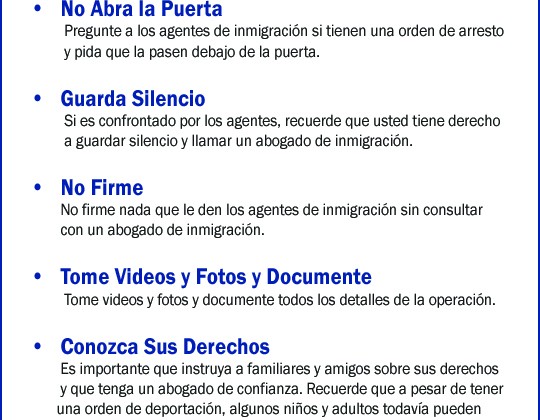 We started the new year with the unfortunate beginning of a series of raids seeking to deport more than 100 thousand families, including children, who have arrived since January 2014 from Central America.
These raids would be carried out by members of the US Immigration and Customs known as ICE, and would be aimed at all those people who already have a deportation order.
Adults and children would be arrested wherever they are and could be deported immediately. In this first week of the year, and the arrest of several Central American families in the Atlanta area is reported.
Organizations such as the Association of American Immigration Lawyers (AILA), of which I am a member, asked President Obama to stop the raids and treat the issue as a humanitarian problem, as many families cross the border of the United States fleeing violence and poverty plaguing their countries.
Similarly, it has been reported that many people have difficulty understanding the American legal system, so that many families did not attend court on the date indicated or have not had a chance to hire a lawyer to defend them if appropriate , even with all the arguments for a haven.
Remember that despite having a deportation order, some children and adults can still have some kind of relief.
For example, some children under 18 who have been abandoned or abused by one or both parents may qualify for a special residence status and get even with a deportation order. Also some adults may have some alternative relief.
However, we will review each case to determine the possibilities of each person.
Anyway, remember that in a raid you have the right to remain silent and call an immigration attorney.
More information can hear the show the truth of the Law every day at 7:30 am or can download the mobile application on your cell phone.
Attorney Stefan Latorre has offices in Charlotte, Monroe, Hickory and Greensboro in North Carolina; Columbia and Greenville in South Carolina; and Jacksonville in Florida. For a consultation, call 1.800.966.6769.