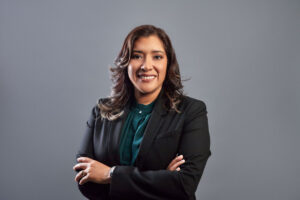 Ms. Maria Tello is a dedicated bilingual attorney, fluent in both English and Spanish, who brings a wealth of experience to the legal profession. Holding a Juris Doctorate (JD) degree from the University of Lima and Master of Laws (LLM) degree from the prestigious University of Maryland Francis King Carey School of Law, Ms. Tello has a remarkable seven-year journey, during which she has garnered proven successes in immigration law, having worked as a paralegal and subsequently as an attorney. Her commitment shines through as she consistently strives to provide the most professional and thorough service to each individual client, understanding the unsettling nature of the immigration process.
Ms. Tello is well-versed in all aspects of U.S. immigration law. She possesses diverse legal experience including removal defense, family-based and employment-based immigration law.  Ms. Tello employment history includes a significant role at a nonprofit organization, where her responsibilities primarily revolved around conducting legal orientation programs for custodians of unaccompanied minors. This crucial work demonstrated her dedication to supporting vulnerable populations within the immigration system.
Ms. Tello is a member of the Alabama State Bar Association and also a member of the American Immigration Lawyers Association.
Beyond her professional accomplishments, Ms. Tello finds joy in spending quality time with her family, appreciating the moments of shared laughter and exploration that provide her with a well-deserved sense of renewal.
Ms. Tello's commitment, bilingual competence and extensive experience highlight her as an exceptional legal professional, dedicated to ensuring fair and equitable results in immigration matters and making a positive difference in the lives of her clients.