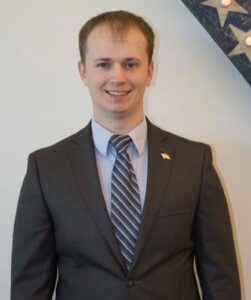 Adam Wood is an Associate Attorney with Latorre Law Firm, assisting clients with their civil litigation and criminal defense needs. He earned his BA in Economics from Western Illinois University with an emphasis in quantitative and monetary economics in 2016. While studying at Western Illinois University, he served in the Army National Guard and volunteered with Big Brothers Big Sisters. Mr. Wood studied law at Northern Illinois University College of Law, where he received the Dean's Research Scholarship for all three years of his study. He applied his economics and statistical background to earn an additional scholarship by researching and working with his law school's admissions department to analyze academic data to predict first-time bar success.
After earning his Juris Doctorate degree, Mr. Wood worked as a limited practice law graduate with the Mohave County Attorney's Office in Kingman, Arizona. He prosecuted misdemeanor cases under the guidance and supervision of licensed attorneys, such as theft, domestic violence, and drug charges. Prior to joining the Latorre Law Firm, he worked for an insurance defense law firm. Adam is licensed to practice law in North, South Carolina, and the Western District of North Carolina for federal cases. He is passionate about standing up for his clients, enjoys taking on new challenges, and is devoted to honing his litigation skills.
Mr. Wood  is from a Chicago sports family and enjoys watching the Bulls and Bears during his free time. He grew up thinking he would be a professional musician, starting classical training on the violin and piano at the age of 6. Adam loves animals and currently has one rescue dog in his family. He also volunteers his time coaching high school and collegiate mock trial students to hopefully become the successful trial lawyers of tomorrow.