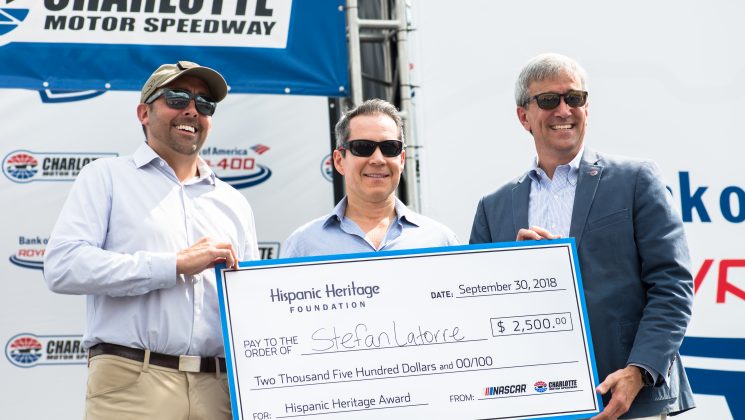 Stefan Latorre was honored for his contributions to the local community; Latin Americans Working for Achievement organization to receive $5,000 donation
Charlotte, N.C. (Sept. 30, 2018) – NASCAR has partnered with Charlotte Motor Speedway and the Hispanic Heritage Foundation (HHF) to celebrate Hispanic Heritage Month (Sept. 15 – Oct. 15) and recognize the contributions of Stefan Latorre to the Hispanic community of Charlotte.
Latorre was honored during the Bank of America ROVAL™ 400 on Sunday, Sept. 30, at Charlotte Motor Speedway. Latorre is the president of the Latorre Law Firm, which represents clients in personal injury, workers' compensation, criminal defense, and immigration matters.
As part of his commitment to the Hispanic community, Latorre provides free legal advice as the host of "La Verdad De La Ley" (The Truth of The Law), a Spanish-language radio program that is broadcast in 13 stations throughout the Carolinas and Florida. Latorre also organizes two charitable events annually – The Back to School event and the Fiesta Con Santa Christmas event – both of which have provided gifts and much needed supplies to thousands of children in the local community.
Additionally, Latorre has served as the chairperson of the Charlotte Immigrant Integration Task Force, which evaluated and recommended ways to maximize immigrants' economic and civic contributions to the city of Charlotte.
"Stefan has an unwavering commitment to the Hispanic community of Charlotte," said Greg Walter, the executive vice president of Charlotte Motor Speedway. "Stefan takes an active role in giving back to the Hispanic community, which is vital to ensuring its future success in our region. He is fully deserving of this prestigious honor."
The Hispanic Heritage Award recognizes the commitment of Hispanic leaders to their communities and promotes their efforts by honoring them in their local race market. As part of the recognition, each honoree receives a $2,500 donation for a non-profit organization of their choice. This year, Latorre chose Latin Americans Working for Achievement (LAWA) as the recipient, and committed to matching the donation for a total of $5,000. LAWA's mission is "to advance the education and quality of life of Latinos in the Charlotte Region through scholarships, academic, and cultural programs."
Past Charlotte Motor Speedway award recipients include Norberto Sanchez, founder and CEO of Norsan Media and Pastor Rusty Price of Camino Church.
Celebrating four years of partnership, HHF and NASCAR are proud to celebrate outstanding Latino leaders who are making an impact in their communities. Throughout Hispanic Heritage Month, three additional Hispanic leaders are honored across the country at Las Vegas Motor Speedway, Richmond Raceway and Dover International Speedway.