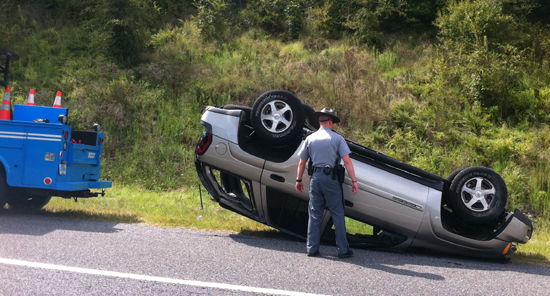 Have you or a loved one been injured in a car accident?
The automobile accident lawyers at The Law Offices of Stefan R. Latorre have helped car accident victims with claims and lawsuits throughout North and South Carolina. The attorneys at The Law Offices of Stefan R. Latorre have dedicated their entire law practice to ensuring that victims like you receive every benefit you deserve for the injuries you have suffered. There are NO FEES until we recover money on your behalf. Call us now for your free consultation at 704-344-0004.
Traffic Accident Information
On average, there are over 6 million automobile accidents in the United States annually. Each year an estimated 40,000 people are killed in traffic accidents and as many as 3 million people are injured. According to the National Highway Traffic Safety Administration (NHTSA), automobile accidents are the leading cause of death in the United States of those between the ages of 1-30. Four out of every five accidents are a result of driver inattention, including the use of electronic devices (such as mp3 players and cell phones) and driver drowsiness. A driver who is responsible for an accident may be required to pay for the damage that has been inflicted on a person or property.
Legal Help for Carolinas Car Accident Victims
If you have been injured in an accident, we will fight to obtain maximum recovery for your injuries. We have helped our clients recover damages for medical costs, pain and suffering, and property damage. Hiring an attorney who is experienced at handling automobile accident cases can make all the difference in your case. The attorneys at The Law Offices of Stefan R. Latorre know the system and understands how insurance companies operate. Often, insurance companies will not pay a fair settlement until a skilled, experienced lawyer takes over the case. The best time to hire a lawyer is right after your accident. Obtaining early legal representation will help avoid costly mistakes that many people make when dealing with insurance companies without a lawyer, such as providing recorded statements to insurance adjusters, or accepting an inadequate settlement. An injured person only gets one settlement, so it is important to obtain legal representation. Call us today for a FREE consultation about your car accident claim. We look forward to helping with your recovery.
If you've been injured in an automobile accident in North or South Carolina, time is of the essence! The sooner you contact an auto accident attorney, the more likely it is that a strong personal injury case can be developed to help you obtain full and fair compensation.
There are strict filing deadlines in North and South Carolina for such claims. If you miss the Statute of Limitations, you'll be unable to file your case. In addition, there are many rules and deadlines regarding insurance and uninsured / underinsured motorist claims.
Contact an experienced motor vehicle accident lawyer right away
Contact an experienced North or South Carolina car accident lawyer at The Law Offices of Stefan R. Latorre in our Charlotte or Statesville office. We offer free consultations regarding accidental injuries of all kinds, and you owe us no attorneys' fees unless we recover compensation for you.
The real cost of your car wreck
Rear-end collisions, pedestrian hit-and-run accidents, or traffic accidents occurring when someone runs a red light or stop sign can result in serious back injuries, whiplash, or closed head injuries. Any motor vehicle crash can cause broken bones, burns, scars, or other serious injury.
The victim and his or her family face many new challenges and expenses. In addition to your pain and suffering, you may incur costs including doctors' bills, ambulance costs, and emergency room bills. You might need nursing care, rehabilitation, long-term care, plastic surgery, handicapped building or car modifications. There could be property damage, and lost wages. We'll help you figure out all of your losses so that you don't find out later that your compensation was inadequate.
Wrongful death
If your loved one lost their life in an auto accident, we can help you explore the possibility of a wrongful death lawsuit. We can't bring back your loved one, but we can help you obtain the compensation that will allow your family to move forward.
Contact one of our experienced car accident lawyers at any of two convenient North Carolina locations to request a free evaluation of your auto accident. We can help.