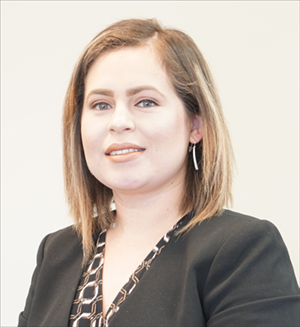 Norma Jisselle Perdomo is an Associate Immigration Attorney at Latorre Law Firm. Ms. Perdomo's practice consists of filing family-based and naturalization applications with USCIS.
Ms. Perdomo received her Juris Doctor degree from North Carolina Central University School of Law in 2018. She also received a Master's in Business Administration from North Carolina Central University School of Business in 2018. She has been a member of the North Carolina Bar Association since 2018.
While a student at North Carolina Central University, Ms. Perdomo participated in different law clinics and pro bono programs designed to provide free legal services to low-income individuals. Ms. Perdomo volunteered as a student-attorney in Naturalization clinics held at the General Consulate of Mexico in Raleigh and at the NC Advocates for Justice Headquarters. In addition, Ms. Perdomo volunteered in various Power of Attorney clinics across the state that were developed to help undocumented immigrants plan for childcare and their finances in the event of deportation. Furthermore, Ms. Perdomo worked as a certified legal intern for the Consumer Financial Transactions clinic in North Carolina Central School of Law. There, she represented clients in matters related to consumer law, foreclosure defense, and estate planning.
Ms. Perdomo completed her undergraduate studies at the University of North Carolina in Chapel Hill and earned double majors in Global Studies and Spanish, and a minor in Anthropology. At UNC-Chapel Hill, she was awarded the Reed Gabriel Ignizio Award for excellence in Romance Languages. Ms. Perdomo is fluent in Spanish, and is a member of Sigma Delta Phi, a Spanish honor society.
Ms. Perdomo was born in Honduras and moved to the United States in 2003. Being an immigrant herself, she is familiar with the challenges immigrants face in this country. Prior to becoming an attorney, Ms. Perdomo worked as an adjunct instructor for five years. She taught ESL (English as a Second Language) in a community college and helped immigrants from different parts of the world learn English. Now that she is an Associate Immigration Attorney at Latorre Law Firm, she hopes to continue to serve the immigrant community by being a zealous advocate for her clients.
In her leisure time, Ms. Perdomo enjoys spending time with her family, traveling and cooking.